ACT Policing has released several images of suspected offenders sought over the assault and robbery of a taxi driver on Parkes Way early on Friday morning (February 19).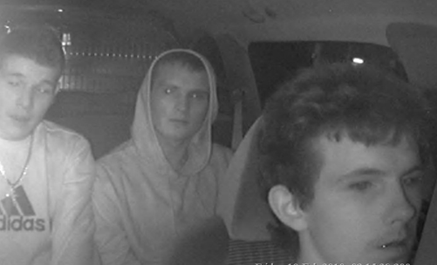 The suspects shown in the images were in a group of four picked up from the Alinga Street taxi rank around 3.15am on February 19.
The taxi stopped westbound on Parkes Way around 3.20am where the suspects were accused of stealing the driver's mobile phones and passport.
The driver has confronted the men about the theft and has then been assaulted by them.
The first suspect is described as a Caucasian male, with blond hair, a medium build, clean shaven and wearing a blue "hoodie" top and jeans.
The second suspect is described as Caucasian, with a goatee, brown hair and dark-coloured top, while a third suspect is described as Caucasian, about 5'8" (173cm), with an oval face, and slightly overweight.
The same men are also being sought by police in relation to other offences committed in the Acton area.
Anyone who may recognise these men, may have been confronted by them in Acton, or have any other information which can assist the police investigation is urged to contact Crime Stoppers on 1800 333 000 or via the website at www.act.crimestoppers.com.au.

Anybody with any information about this crime or any other crime is urged to contact Crime Stoppers on 1800 333 000 or Report Crime Online.