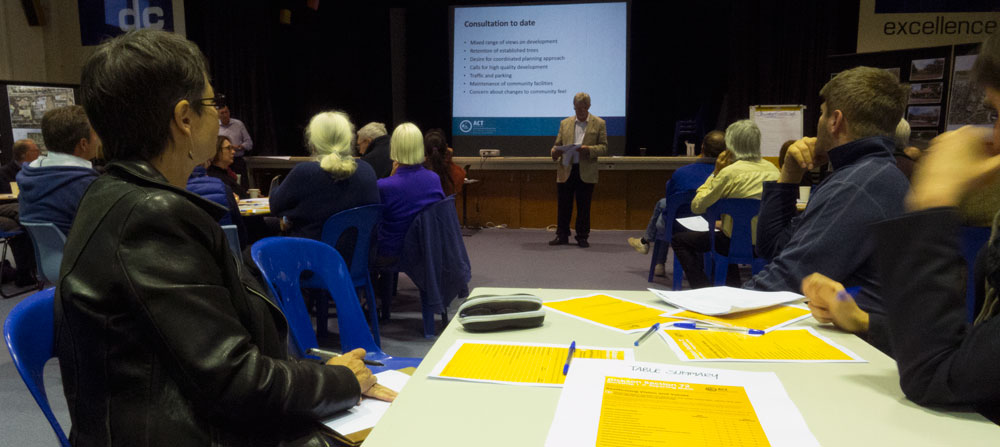 The Dickson community cultural precinct (Dickson Section 72) is the area to the east of the Dickson Aquatic Centre, bounded by Antill Street, the Dickson playing fields and the shared community path that leads from the Dickson shops at Cowper Street to Dickson College on Philip Avenue.
Its current zoning prohibits residential development. The ACT Government is proposing to change the zoning of the whole of Section 72 to a Commercial Zone that would allow residential development. The proposal forms a part of its Omnibus Territory Plan Variation (see link below) which will allow zoning changes at 17 sites across the ACT.
A Workshop to discuss the proposal was held at Dickson College on Monday 20 October. We have received the following feedback from one person who attended the Workshop, indicating significant concern:
"On a cool Monday evening, more than one hundred local residents from surrounding suburbs gathered in the Dickson College hall in response to the invitation to attend a workshop staged by the ACT Government.
"The topic for the evening was the future use of Section 72 Dickson, the community site behind the Dickson pool and stretching up to the nearby playing fields.
"The important detail overlooked by many was that this meeting was not called by the Land Development Agency, not by the Economic Development Directorate, or by the ACT Land and Planning Authority (ACTPLA). At the bottom of the invitation was the address for the Community Services Directorate, which includes the sections who look after public housing. Therefore the motivation for the evening's consultation was not as most of the attendees would have expected."
You can read the whole blog here …
The proposal will be considered at the North Canberra Community Council public meeting at 7.30pm on 19 November, at ACT Sports House, 100 Maitland Street, Hackett.
For more information on the Omnibus Territory Plan Variation, click here …